Some more about us
Brandell Diesel started from humble beginnings as a small 3-man shop in 2013. BDI has experienced rapid growth with a reputation as being one of Calgary's Premier Diesel specialists.
We expanded our services along the way with divisions in Hydraulic equipment and specialized tuning. What is the secret to our success? We stand firmly behind our motto, "Common sense service." Our team of 25 always strives for perfect execution and we pride ourselves in supplying only the highest quality products.
At BDI, we think a little differently than most. We believe the most important thing in our business is our team. Without it,  you will not have the best customers. Our team always strives to be the best they can and deliver for the customer.
We not only fix it when it breaks, but we also find solutions to prevent costly downtime. BDI understands the demanding industries and will keep your equipment working for you.
Brandon Mandel
President
Growing up in the farming community of Taber Alberta, Coming from farming roots with a strong background in diesel mechanics. Red Seal Agriculture and Heavy Duty Truck. Brandon started his career at Taber Diesel as a fuel injection tech, later changing over into Ag and the heavy truck world. After moving to Calgary, Brandon noticed the heavy-duty repair sector was falling short.  He saw a desperate need for good old fashion common sense service he learned from his Grandpa. Brandon opened BDI in 2013 with his mentor Chris Blundell and with those same farm-boy values, he is changing the way service is done in Calgary.
Stefan Bohl
General Manager
Stef joined the team in 2016 and has worn many hats over the years, helping us in accounting and then into service. Stef is truly what the BDI family is all about. His witty sense of humour did not stand in the way of being appointed the General Manager after only 2 short years. His dedication & commitment makes him a true leader that everyone here looks up to.
Marisol Mandel
CFO
Marisol (Mo) is our CFO and co-founder; you could say the beauty behind the beast. Her integrity & work ethics are unmatched, she takes pride in everything she does and always has a gorgeous smile on her face. Mo holds a degree in tourism & Business From the University of New Caledonia and speaks 4 languages. She is the one that keeps us all in check.
Kristen Lannon
Service Advisor
Kristen has 7 years of experience in the automotive and heavy-duty industry. She brings a lot of experience and knowledge to our team. A customer service miracle, she is always there for our customers.
Kristen is also the recipient of the "Shelley Schroh Purple Heart Award" for 2019
Kayt Jordan
Service Advisor
Kayt is a 2nd year service advisor and our Safety Officer. She helps keep us all organized in service and is learning the Diesel service industry in leaps and bounds.
Conner Mandel
Parts Technician 
Heavy Duty Parts Technician and the first member of team BDI. Conner literally helped us lay the first bricks.
David Hooper
Parts Technician
Heavy Duty Parts technician and automotive tuning specialist
Joe Neu
Shipper/Receiver
1st Year Parts Technician and our Shipper/Receiver.
Casey Skauge
Lead Hand
HET Master technician with CVIP and Advanced diagnostic guru. Captain of team Busch.
Ethan Hetke
Apprentice
3rd Year Apprentice HET technician and automotive diesel specialist
Ethan also was the recipient of the "Mechanical Advancement Award" 2019
Holds the first title of the Tandem Technician Speed Comp at our Open house 2019
Alex Mangos
Journeyman Welder & 4th Year HET
Red Seal  B-Pressure / CWB welder and is a 4th year Heavy-Duty apprentice. Alex is also our lead hand in the automotive diesel side.
Alex is also the recipient of the "BDI Well Rounded Award" for 2019
Tom Cameron
Outside Sales
Tom has over 30 years of experience in the diesel industry, originally a Diesel engine machinist by trade. He was been in sales for over 20 years between Cummins, Gear Centre and Transwestern Mack.  Tom has has an incredible reach of knowledge in the diesel engine world and we are lucky to have him.
Tyler "Trippy" Delay
Journeyman Technician
Red Seal HET technician with CVIP license. Trippy is also a hydraulic master technician and our crane & equipment specialist
McKoy Atkinson
Apprentice
2nd Year HET apprentice
McKoy is also the recipient of the "BDI Rookie of the Year Award"  for 2019
Jeremy Jones
Journeyman Technician
Red Seal HET technician with CVIP licensee.
Jer is also the recipient of the "Most Efficient Technician Award" for 2019
Holds the first title of the Tandem Technician Speed Comp at our Open house 2019
Nigel Harber
Apprentice
4th Year HET apprentice and former Cpl Canadian Armed Forces
Adam Nyhus
Journeyman Technician
Red Seal HET Master Technician with CVIP license – Advanced diagnostics and hydraulic experience
Wyatt Hamilton
Facility Technician
BDI Facilities technician and 1st-year HET apprentice
Gagandeep Singh
Facility Technician
1st-year HET apprentice and also helps out as a facilities technician.
Mark Van Kwawegen
Journeyman Machinist
Mark is a Red Seal machinist who has teamed up with BDI to expand our hydraulic division. We now have full machining ability with lathe and mill, we can build all cylinders or components in house. Turn around time is extremely fast and we don't have to rely on any 3rd party shops for this work.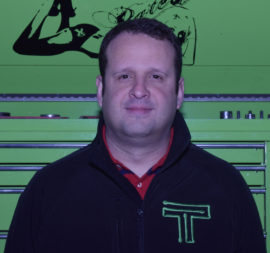 Oscar Diaz
IT Service Advisor
Oscar is part of Tecbound Technology. They are in charge of keeping Brandell Diesel's technology infrastructure up and running 24×7. He is a Microsoft Certified IT Professional and System Engineer. Also, Google Specialist with more than 15 years in the IT field. Here his contact information, 403-926-1754. oscar@tecbound.com
German Shepperd dog trainer
www.tecbound.com
Deen Abouzeenni
IT Service Advisor
Daniela Diaz
IT Summer Student
SAIT IT – Computer Systems Student
Taher Dawoodi
Media
Marketing and media manager
LinkedIn ads certified
www.basaropt.com
https://ca.linkedin.com/in/taherdawoodi53
Scotch
Dog
Scotch is BDI's greater and customer calming specialist. He is loved by all who meet him.
This could be you
You can be part of BDI team. Send your resume at info@bdicalgary.com