Some more about us
Brandell Diesel started from humble beginnings as a small 3-man shop in 2013. BDI has experienced rapid growth with a reputation as being one of Calgary's Premier Diesel specialists.
We expanded our services along the way with divisions in Hydraulic equipment and specialized tuning. What is the secret to our success? We stand firmly behind our motto, "Common sense service." Our team of 16 always strives for perfect execution and we pride ourselves in supplying only the highest quality products.
At BDI, we think a little different then most. We believe the most important thing in our business is our team. Without it,  you will not have the best customers. So we believe the only way to have the best customers is to deliver, and our team always delivers the best.
We not only fix it when it breaks, we find solutions to prevent costly downtime. BDI understands the demanding industries and will keep your equipment working for you.
Brandon Mandel
Founder
Founder Brandon has grew up in the farming community of Warner and Taber Alberta. Coming from farming roots with a strong background in diesel mechanics, Red Seal in both Agriculture and Heavy Duty – Truck. Started his career as a tech at Taber Diesel and later moved on to John Deere for many years. Later changed over into the heavy truck world and has managed truck repair shop service departments for the last 8 years. After moving to the city of Calgary, Brandon noticed the heavy-duty repair sector was falling short to say the least. He saw a desperate need for good old fashion common sense service that you can only get from a grass roots upbringing.  Brandon opened BDI 3 years ago and with those same farm-boy values and is changing the way service is done in Calgary.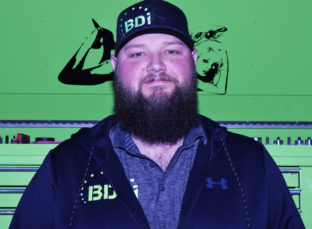 Stefan Bohl
General Manager
Stefan is originally from Saskatchewan but we're grateful he's been a Calgary resident for over a decade.
He started with us this year in a service writer position and has already expanded his role into ops manager and has provided a lot of support in other departments showing versatility in his skills.  We consider him a strong pillar of the company.  His good sense of humour did not stand in the way of getting appointed the safety officer and sometimes the enforcer.  Due to his long stint as a dispatcher, manager and inventory specialist, his multitasking ability is a great asset and if there' s work to be done, he's the guy!
Marisol Mandel
CFO
Marisol (Mo) is our CFO and co-founder; you could say the beauty behind the beast.  She has solid business ethics, which are never compromised. Marisol takes pride in everything she does and always has a gorgeous smile on her face. Marisol has a degree in tourism and business and is trilingual speaking. She is extremely organized and is the glue that holds us all together.
Richard Zimmer
Shop Foreman
Richard Zimmer is our service manager, we are really fortunate to have him on the team with an incredibly long list of experience and skills. Richard has over 16 years of dealership training and is currently obtaining his business management degree through Mount Royal University. At 18 years old he started in the trade at Freightliner in 2001 as the wash boy, after completing his apprenticeship he quickly became a leading force on the floor. He was promoted to foreman in 2012 and led his team of 20+ techs for over 4 years, achieving awards and great leadership experience. Ready for a new challenging role as our service manager, Richard has taken the shop by storm. In a short time, he has organized the flow and fine-tuned our processes to get the maximum efficiency out of our team. CUMMINS, CAT, DETROIT AND FREIGHTLINER certified along with CVIP and class 3 license.
Kristen Lannon
Service
Kristen has 7 years of experience in the automotive and heavy-duty industry. She brings a lot experience and knowledge to our team.  She plays softball and loves gardening.
Conner Mandel
Parts Specialist
Conner is our outside parts specialist who also comes from a grassroots background. Conner grew up helping out on the farm and at Taber Diesel so his technical background gives him a strong advantage in the parts world. His farming background helps him to be resourceful when needed most and will always find the right part to get the job done. Conner is currently gaining is Red Seal Parts Technician Certificate.
David Hooper
Parts Specialist
David is a first year HET Tech who recently changed trades and has taken on the role of in-shop parts technician. He has really helped bring our parts department to the next level and his speed and sense of urgency helps get the jobs done faster. David is really organized and takes a lot of pride in keeping inventory organized and counted correctly. The ability to get along with all the techs is a huge asset with a parts-men and David definitely has everyone in his corner. 
Casey Skauge
Lead Hand
Casey is our shop leadhand who comes to us with 12 years of dealership training. He is a diagnostic and electrical master and there really isn't much that can stump him. Casey is a Heavy Duty Red Seal journeyman with CVIP & class 1. He is also CAT, CUMMINS, DETROIT & FREIGHTLINER certified. Casey loves camping, hunting, 4x4ing and good old fashion horsepower.
Tyler Balko
Heavy Duty Technician
Ethan Hetke
Tech
Ethan is a 1st year Heavy Duty Apprentice who is our Facility Technician. His skill set helps keep the shop organized and all the equipment maintained. Ethan loves snowboarding and other outdoor activities.
Andrew Hlavsa
Andrew is our parts pick up and delivery technician. He has a strong background in mechanics working in the garage with his father who is a great mechanic and friend of Brandon.  Andrew also has warehousing experience and that is a huge asset for BDI on the parts area. He also helps in the shop when needed and is eager to give a helping
hand wherever he can.
Darren Hunter
Outside Sales
Darren has 17 years oil and gas sales and2 years of Ford truck sales. In Darren's spare time he plays a whole lot of good old-fashioned hockey. He likes golf and team roping on his weekends and evenings.
We have learned Darren needs very little sleep.
Daniela Diaz
IT Summer Student
This could be you
You can be part of BDI team. Send your resume at info@bdicalgary.com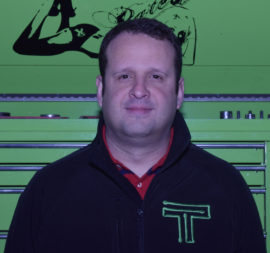 Oscar Diaz
IT Service Advisor
Oscar is part of the Tecbound Technology. They are in charge of keeping Brandell Diesel's technology infrastructure up and running 24×7. He is a Microsoft Certified IT Professional and System Engineer. Also, Google Specialist with more than 15 years in the IT field. Here his contact information, 403-926-1754. oscar@tecbound.com
www.tecbound.com